Description
Robotime Treasure Box DIY Mechanical Secret Locker
ROKR LK502 Treasure Box 【Challenging But Fun】The whole set is extremely well designed, with very tight tolerances and good machining. The interlocking mechanisms are pretty ingenious. Assembling without glue and chemicals. Details are already cut and ready to assemble. The wood is beautiful and smooth.
【Delicate Storage Container】Add a more elegant touch with the beautifully carved Treasure Box LK502. Not only assembly but also the unlocking process brings a lot of fun. After inputting the code, you use a key to open it. Then you can keep your private items or jewelry in it safe and sound.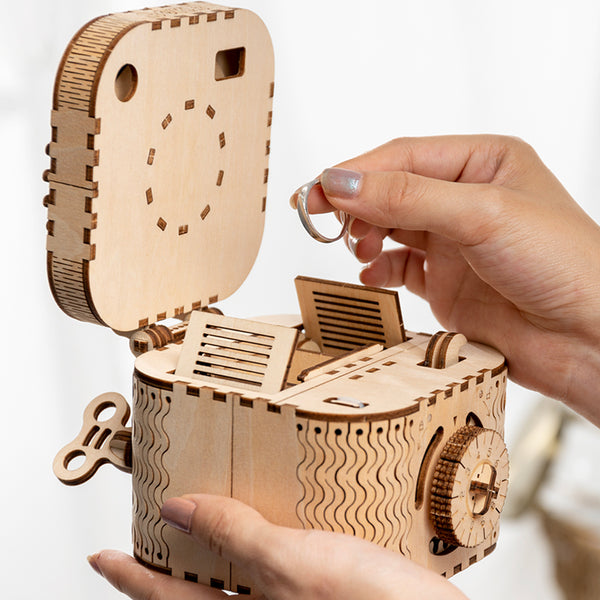 【Creative Gift】What a fascinating thing to see the mechanical miracle coming to life by your own hands. Creative gift for your boyfriend, girlfriend, husband, wife who is a model builder or puzzle lover. It looks so cool and creates a decent challenge for an adult.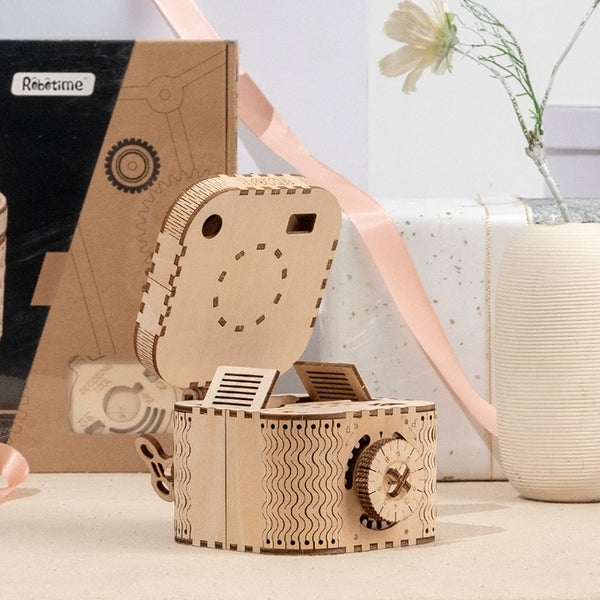 【Non-Glue& Natural】Exquisite external packing, High-quality materials. With Laser Cutting Technology, the pieces are easy to remove from the sheet of plywood, the laser cutting is precise and clean.
Description of ROKR LK502 Treasure Box
ROKR LK502 Treasure Box that you can build by yourself. It is a DIY craft and also a storage container for small items or jewelry. You can set a three-digital password and keep items safe.
*Due to customs policy wax may not be included in packages. 
CUSTOMIZED CODE: You can choose one combination from 810 sets of codes (listed in the manual).
DUAL STORAGE SPACE: Use the knob and code to open the box. You can put small items in it safely. And there is also a hidden space on top-lid which you can rotate the gears.
EXQUSITE DESIGN: Delicate gears and precise cutting with beautiful patterns. It will be a perfect decor for your home or office.
PERFECT GIFT: Best gift for family or friends on birthday, Mother's Day, holiday, or Christmas.
Assembled Size:100*124*85 mm
Packaging Size: 240*330*40 mm
Series: ROKR LK502 Treasure Box- Mechanical gears
Estimated assembly time: 5 hours.
Warning: Small Parts Not for Children under 3 years old
HOW TO SET YOUR PASSWORD?
FRONT: This rotary knob is used to enter the password to open the box. The password is set at the time of assembly. After assembly, the password cannot be changed.The password is a three-digit number. There are 1,000 digits between 000-999. You can set 810 of them as the password, but 190 of them cannot be set, please refer to the manual for details.
BACK: There are two holes in the back that can insert the key, open the box and rotate the key so that the inner tray can open and rise.
TOP: Rotate the gear to open a small space at the top.
BOTTOM: At the bottom, you can record the password you set, and their laser engraved the way of dialing the password:
anticlockwise 2 circles to digit 1
clockwise 1 circle to digit 2
anticlockwise 0 circles to digit 3
Then the box will be open!
INSIDE: There's a little tray inside to keep your little secret or surprise for somebody!
ADDITIONAL INFORMATION of Robotime Treasure Box
| | |
| --- | --- |
| WEIGHT | 0.8 kg |
| KIT | Accessories, Metal, Plastic, Wood |
| RECOMMENDED AGE | 14+ |
| ASSEMBLED SIZE | 100*124*85mm |
| PACKAGE SIZE | 320*235*39mm |
| WOOD PIECES | 123 pcs |
Discover more – mechanical gears
ROKR 3D Puzzles – We are confident that any person who assembles just one of our models will feel drawn into a new world of creativity and beautiful and ornate decorations that proudly display the assembler's creativity.